6th
January
2023
---
I ran into an issue where a folder was created by some application with a special Unicode character that Windows Explorer doesn't seem to play nicely with. I also was unable to tell what the character was since nothing would reveal it. The folder's there, but you can't rename or delete it. If I tried to remove or delete it, I'd get an error saying the folder doesn't exist: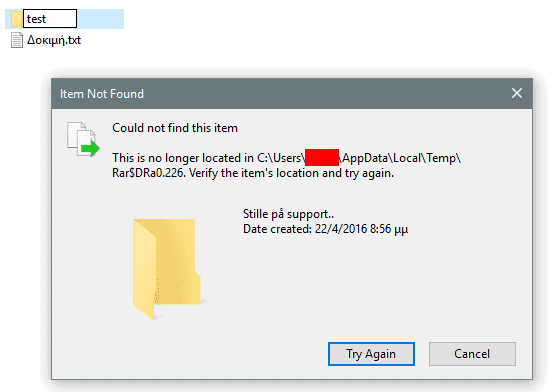 I have LockHunter installed but it wasn't able to delete it for some reason. The easiest way I found to delete the folder was to use Git Bash and then use the appropriate commands to rename or delete the folder.
Browse to the folder where the offending folder is located. For example purposes, I'll use c:\temp\folder1
cd c:/temp
Rename:
mv fol (hit tab to autocomplete) folder1
Delete:
del fol (hit tab to autocomplete)
If you don't have Git Bash or are not a developer/power user, you can download the portable version from https://git-scm.com/download/win to use temporarily. Once you decompress the files to a folder, you'll find git-bash.exe which you can double-click to run and use the above commands.
8th
April
2020
---
I ran into an issue where I had to move files from one system to another and was running into issues because files had been set as read-only, had the archive flag set, or both. It was causing the system to skip files which wasn't acceptable. Normally you could just use Windows to clear it in bulk, but that could potentially mess up file permissions. I needed a way to automatically just clear all flags but respect permissions.
I did some searching and didn't find a utility that would do the job and most of the solutions I found required Powershell which wasn't available on the system I was on. I ended up writing a quick console application in C# to do the trick. I've made it free and open sourced it in case anyone wants to use it.
If you need just the app, you can find the release build here with instructions. The app also prompts for input to make things a bit easier to use. There's no install, no tracking or metrics, or anything else related to privacy concerns in this app. It's a simple throwaway utility to get the job done and move on.
https://github.com/gregvarghese/clearflags/releases/tag/1.0.0
If you want to see the source code, that is available here:
https://github.com/gregvarghese/clearflags/
Please note that I did this in about 10 minutes for my own use so error handling is pretty much non-existent. I mention this because I did run into one issue where Windows was somehow seeing a folder with files in it as a file and it couldn't be deleted or renamed and the utility couldn't get past it until it was resolved. I didn't spend much time debugging and just used my Mac to rename the folder and Windows was able to recognize it after the change, so the utility was able to continue processing.