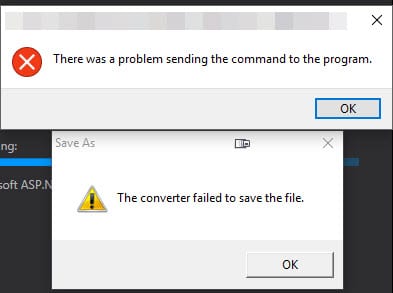 2nd
November
2016
---
I recently upgraded to Office 2016 on my Windows 10 desktop and was getting the error "Converter failed to save file" when double clicking on the file along with an "There was a problem sending the command to the program error" every time. I finally had enough with the annoyance to troubleshoot it and figured out a solve.
If you have the same issue, here's how to fix it:
Open your Default Programs configuration from the Control Panel. On Windows 10, you can hit start, type Default Programs, and it'll open the app.
Scroll down the list until you get to the Excel formats (XLS):

If you see anything other than Excel as the default, you'll need to change the default to Excel. For me, the issue was the Open XML Converter not being installed anymore after upgrading to 2016. To change the default, select the format, click the "Change Program" button and select Excel 2016 from the list of apps that pops up and click OK to set the association:

You'll need to do this for each format in the list to correct it. The most common formats you'll use are XLS, XLSX, & XLT.